And now for something completely different....
Back in November at Warfare a few of us over at Wyvern Wargamers were tempted into the excellent 7TV rules after playing a "Blake 7 "ish skirmish game.
The rules seems to be perfectly weighted towards low level skirmishing where the lead characters take centre stage recreating the sci-fi drama's of our childhood.
It prompted me to dust off my partial collection that has been held in storage for several years - which is crying out to be adapted for the 7TV rules - Flash Gordon......
I started this project some 15 years ago but a lack of rules and a complete figure range consigned them to the box at the back of the wardrobe, most of the range was from The Wargames Supply Dump -Dick Garrison range with other figures drafted in when they had the right look and feel.
Languishing in the unpainted draw were two blister packs from what was the Superfigs range originally available from Westwind, which I planned on using as Shark Men. This could be their window of opportunity to finally appear on a table top.... and with free time over the Christmas break I give you the first offering.
More to follow over the coming weeks.
Shark Men ready to step forth from the sea to do Ming's bidding.
I misted the lens to give an underwater feel.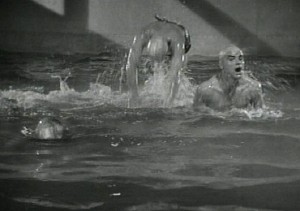 Stay tuned for more updates every Saturday morning... :-)